Flutter App Development Company
Flutter is Google's suite of open-source tools to build cross-platform applications. You can use it to create both Android and iOS apps without switching code bases. It cuts development time and simplifies app development significantly. As a Flutter app development company, we use it to create apps up to twice as fast as other frameworks.
Services

we provide
UI/UX Design
Flutter makes it easy to create beautiful interfaces with remarkable responsiveness. We normally begin with a backlog of the final product, as well as wireframes and then design a platform around those specifications. Because the technology is so advanced, the work takes only a fraction of the time it would take on other platforms.
App Development
As a Flutter development company, we can create apps for both Android and iOS simultaneously. With a single code base, we create identical interfaces across both mobile platforms. The apps are also highly customizable, and each product can have it's own unique look and feel.
App Upgrades
Our Flutter development also makes existing apps compatible with the most recent versions of iOS and Android. With our help, your users can maintain access to all their favorite features after they upgrade to new devices and operating systems.
Maintenance and Support
The simplicity of Flutter technology makes it easy to use and the apps easier to maintain. Hire Flutter app developers to keep your platform bug free and efficient. Our maintenance guarantees consistent performance, keeping you ahead of competitors with a less competent team.
Advantages of Flutter Development
In software development, less is often more. Flutter perfectly fits this minimalist design. As a new cross-platform language, it's setting the trend for app development over the next several years. It's highly functional, quick to develop and user-friendly for users. But what does that mean for your business?

Simultaneously create the same app on two platforms

Flutter has cross-platform functionality which means you can cut app-development-time in half. The odds are that your users are on both Android and iOS. Flutter lets you reach all of them with half the budget, half the development time, and for half the input. Remember that Flutter comes with highly customizable widgets, so those contribute to development and customization.

Smooth functionality

Dart is Flutter's language, and it's able to compile directly into native code without any extra steps or bridges. You may well end up with the fastest app your users have ever encountered.

Faster testing and deployment

Because you can code in half the time, testing and deployment also take less time. QA can be done simultaneously on both platforms because we can create similar tests for both. So on the one hand, you have faster project completion times, but you also get a more thorough QA since our team has more time to work.

Retrograde support

While we can upgrade your apps to run on the most recent mobile operating systems, we can just as easily create apps to run on older devices. Flutter apps will run on all devices with iOS 8, Android 4.1 and newer. You'll be able to cast a wide net and reach all of your customers with the devices they have.

Highly versatile UI

Flutter is, at its core, a UI kit. That means you can expect stunning interfaces from all your apps, with the corresponding responsiveness. It's also possible for our Flutter development team to build abstractions on the available widgets for even more differentiation.

Readily available widgets

Flutter comes with its own widgets fully developed and ready to go. But this doesn't mean you'll get a generic interface when you hire Flutter developers. Because the widgets are also highly customizable, you can integrate any given widget with another to create a whole new design.
Flutter app development process
With your app idea and goals in mind, we can start the Flutter app development process. Our company will sort everything from wireframing to quality assurance. We're also able to pick up any partially completed projects. Flutter's functionality, coupled with our expertise, ensures that we can deliver any project, regardless of how far along it is in development.
Your input is essential because we'll need a definition of the scope of work. With your vision of how you want the final product to look, we can get to work and design a platform to meet those needs. Our primary aim is to bring your product to life, and once we know what that vision is, we can deliver it.
Benefits of Flutter development
Android and iOS apps can work on many different platforms. Yet Flutter app development services remains a favorite. Here are three reasons why.
Backed by Google
Google's brand is synonymous with great user experience and seamless performance. Flutter is Google's UI kit and having Google's expertise behind your application is a great benefit. There are many native app development platforms, but few are as easy to use.
Used by some of the biggest names
Social proof goes a long way to prove the authenticity of any existing product or system. Besides being backed by the biggest search engine, name brands across industries have switched their platforms to Flutter. Some of them include The New York Times Puzzle app, Square's plugin for SDK readers and the project management startup ClickUp.
Minimal input requirements
Sometimes, businesses need to develop a Minimum Viable Product (MVP) to test its potential. In these scenarios, they aren't willing to put their full weight behind it just yet, and that's why Flutter is perfect. A small Flutter development team can work with a minimal budget to create viable, high-performing apps.

Find us on Clutch
Don't just take our word for it; take a look at our profile on the world's largest B2B reviews site, Clutch, to see what others are saying about us and how we work. Our attention to detail and highly effective project management have ensured our partners' business success and happy clients.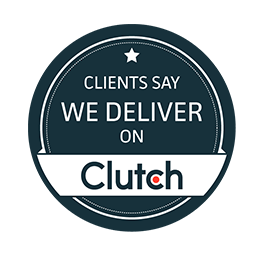 Interested in other
services?
Let's chat!

Hi, I'm Marcin, COO of Applandeo
Are you looking for a tech partner? Searching for a new job? Or do you simply have any feedback that you'd like to share with our team? Whatever brings you to us, we'll do our best to help you. Don't hesitate and drop us a message!
Drop a message