Technology stack migration services
Face it. Things change fast in tech. Stay up to date with a technology stack migration. It will keep your app competitive. While it may seem challenging, it won't be with the right team. The earlier you start, the sooner you'll have the secure, responsive software your users want.
Services

we provide
Website and Web App Migration
If you notice your website or web app is slowing down, it's time for a web app tech stack migration. More responsive services lead to better ease of use and happier customers. Be sure you're at your best for current market demands with a web app tech stack migration.
Application Migration
Just as websites and web apps need tech migrations, so too do mobile apps. Staying ahead of software and hardware updates in the industry is a constant battle. Consider application migration services if you notice users choosing a competitor's app over yours.
Digital Product or Software Migration
Legacy software can get to be a liability once the system is outdated. Sometimes you need to migrate both software and hardware, which presents unique business challenges. We excel at technology migration and won't miss the minor details.
Data Migration
Data migration services move your inefficient databases to safer, more secure locations. Migrate your data to the cloud. While this does take advanced planning and a bit of effort, the flexibility and cost savings is worth it in the long run.
When should you consider tech stack migration?
You may wonder when to consider technology migration services.
Whether your app is inefficient, unproductive, or more and more expensive to maintain, it's time for a migration.
If there are security risks of using outdated technology, the need for an update is even more urgent. A data breach can be disastrous for any company, especially one that relies on technology.
A lack of developers who can work on an app in an outdated language is yet another reason to start thinking about a tech stack migration. The last thing you want to have to do is hire developers where costs are prohibitive.
How do our services benefit you?
Benefits to technology and data migration services are varied. But it's vital to any modern business.
Migrations don't only improve performance, but also drive down overall maintenance costs keeping your business up to date and modern. Sometimes new security standards require businesses to comply. Newer, more secure technologies are often part of the deal.
Another benefit is a wider pool of developers to choose from. Accessing a larger set of development professionals can help you cut costs further, allowing you to focus more on your business.
Want to learn more about the benefits of a tech stack migration project for your company? Drop us a line for a free 15-minute consultation.
Why Applandeo?
1/3
Holistic approach
No software exists in isolation. A holistic and personalized approach to every project sets us apart from other software houses. We'll look beyond the technical specifications and focus on the bigger picture of how the application will function in the real world.
2/3
Technical expertise
Even though we take a big-picture look at our clients' applications, it's not to say that the fine technical details are not vital. A keen grasp of the latest programming languages and software best practices guide us in all our projects. Our commitment to professionalism is second to none.
3/3
Smooth communication
Proposing useful solutions and writing clean code only goes so far if you can't get the points across. Another essential aspect of our working method centers on continuous, clear communication among team members, product owners, and key stakeholders throughout the project.

Find us on Clutch
Don't just take our word for it; take a look at our profile on the world's largest B2B reviews site, Clutch, to see what others are saying about us and how we work. Our attention to detail and highly effective project management have ensured our partners' business success and happy clients.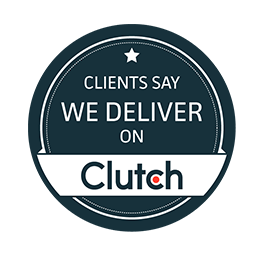 FAQ
01
What are the most common signals indicating that you should consider technology stack migration as a part of the solution we provide?
Depending on the project, the indicators might be minimal possibilities of your current solution, poor performance, poor user experience, etc. In such cases, you should consider building your product with the latest solutions, which will give your end-users a feeling of great and functional application.
02
Which approach would you recommend for the tech stack migration: Big Bang migration or phase migration?
We can define the best way for your product's tech stack migration based on your existing solution and our analysis of a current situation. In general, the Big Bang migration is perfect if you start your new system once it's al;l ready and fully developed. Phase migration requires more work. However, in this way, you can replace your old system part by part.
03
How can you ensure that the whole tech stack migration process is safe and secure?
We specialize in building solutions from scratch based on the client's business requirements. All new products we develop with high precision and emphasis on user experience, performance and security in the first place.
04
What factors are the most important when deciding how to adjust a new technology stack to an existing solution?
The most important are business requirements. The technology stack we define must perfectly fit those. As soon as the business requirements are settled and delivered, we can, together with the client, start preparing the tech stack migration plan.
05
Can you deliver the tech stack migration roadmap along with the proposed migration approach and timeline?
Yes, we do that. Every tech stack migration starts with an analysis of the current solution and old and new business requirements. It's good to define what solutions are missing in your product and include them in the new version. As in every project, we set the timeline for product delivery.
06
What does the tech stack migration fee depend on?
The tech stack migration fee depends mainly on the scale of new development needed, code and architecture improvements, queries optimization, and other changes. In the case of big-scale solutions where tech stack migration is necessary, it may require delivering a very detailed and complex proof of concept at the initial stage, which is also a part of the payment. However, all the costs get consulted with our client during the analysis phase and initial talks.
07
Do you offer support and maintenance phase after the tech stack migration is done?
Yes, we do offer support and maintenance phase after finalizing the tech stack migration.
08
What would be the biggest challenges of the tech stack migration process for us?
The most challenging part is understanding the business requirements of your product, changes that you would like to apply, current issues, and defining the final specification, which will work perfectly for the next decade.
Interested in other
services?
Let's chat!

Hi, I'm Marcin, COO of Applandeo
Are you looking for a tech partner? Searching for a new job? Or do you simply have any feedback that you'd like to share with our team? Whatever brings you to us, we'll do our best to help you. Don't hesitate and drop us a message!
Drop a message