ReactJS development company
At Applandeo, our React experts create interactive user interfaces using the latest methods. ReactJS is an open-source library for building modern applications. React streamlines UI development and can reduce maintenance over time.
Services

we provide
ReactJS Web App Development
ReactJS is a library for building web apps, but it's already the backbone of high-profile websites such as Facebook and Netflix. ReactJS is popular among organizations because it provides a robust ecosystem for building user-friendly web applications..
ReactJS Progressive Web Applications
Progressive web apps are websites that behave like mobile apps. They load quickly, even with poor network connection. Users can also add them to a PC home screen as they do on a mobile device. This is a great way to make your app more accessible.
ReactJS Desktop Applications
Desktop applications are tools that work even when offline, and load very quickly. With ReactJS you don't have to write a seperate desktop application. Users can interact with a beautiful existing app across platforms.
React Native Applications
With React Native, you can build mobile apps that run natively on Android and iOS in record time. Because it uses the same design and development approach as React, developers can share up to 90% of their code across mobile and web platforms.
ReactJS Customizable Applications
React Native allows you to easily show different versions of your app to users in different locations. You can reuse the same components and set up a system that automatically adapts to the user such as logos, colors or other design features.
ReactJS Accessible Applications
React is a JavaScript library that's used to build accessible user interfaces. It focuses on user-friendliness and accessibility. Create applications for all your users with one platform and save time and resources in the process.
ReactJS Responsive Web Applications
With ReactJS, you can build responsive web applications that can adapt to the different screen sizes on your users' devices. This means that you can build one web application that automatically changes its appearance on mobile and PC.
ReactJS Migration
As with any technology, new updates and versions emerge and your app will have to keep up. ReactJS migration will keep your application safe and secure for your end-users as newer versions come out. Stay ahead with expert ReactJS developers.
Pros Of Using ReactJS
ReactJS is a Javascript library that allows you to create reusable UI components that can be rendered quickly.
This makes writing web applications faster and easier because you don't have to worry about how your UI will change as the user interacts with it or what devices they're using.
It also cuts development time due to the many reusable components your development team can use across platforms and devices. 
ReactJS Development Solutions
Our React developers have extensive experience designing ReactJS applications for web, mobile and tablet formats.
We employ the principles of responsive web design in all our projects to deliver top-quality applications.
The apps we build keep long-term maintenance and collaboration considerations.
We work closely with designers and develop solid style guides to keep the app up-to-date and highly secure.

Find us on Clutch
Don't just take our word for it; take a look at our profile on the world's largest B2B reviews site, Clutch, to see what others are saying about us and how we work. Our attention to detail and highly effective project management have ensured our partners' business success and happy clients.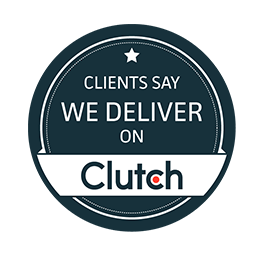 FAQ
01
What are the key benefits of ReactJS for my business?
ReactJS has reusable UI components that work across platforms and devices. So development time is greatly streamlined and saves you time and money. React apps are far easier to maintain for many of the same reasons — that you have one code base your team has to work with.
02
What are some of the features of the ReactJS framework?
React makes it easy to develop dynamic apps quickly. These apps also perform faster since they only load components they need to use at the moment. React's cross-platform capabilities also make it a great choice for companies on a budget.
03
Why do I need ReactJS web app development for my business?
Many of the most popular applications currently use ReactJS as their development framework. These apps deliver better user experiences for an ever-distracted user base.
04
What are the key challenges faced in ReactJS development?
One drawback of ReactJS is that apps may not be as SEO-friendly as apps developed in other frameworks. JavaScript pages aren't as easy for search engines like Google to index. However, server-side rendering or pre-rendering is often a straightforward workaround for applications that will rely on search traffic to attract users.
Interested in other
services?
Let's chat!

Hi, I'm Marcin, COO of Applandeo
Are you looking for a tech partner? Searching for a new job? Or do you simply have any feedback that you'd like to share with our team? Whatever brings you to us, we'll do our best to help you. Don't hesitate and drop us a message!
Drop a message